07 Mar

The garden of ideas: Marchesi at the Packaging Première

On the 15th, 16th and 17th of May 2018, we took part in the Packaging Première fair, which was held in Milan. Participating in an event like this may seem like a gamble for a company like ours, given that our core business mainly involves producing printed items. However, having visited the first ever Packaging Première fair, we opted take part as exhibitors in order to take advantage of an environment brimming with creative stimuli and technical advancements that we can build into our production processes. The event also addresses our main target audience – the luxury and high-level production sectors. This makes it the ideal place to forge significant connections that can kick-start luxury production projects.

The idea for creating our exhibition space stems from a desire to demonstrate the values that have set Marchesi apart in the printing market for over 100 years. One of these values is our ability to integrate production with a set of services tailored to each customer, taking them from planning to product delivery. This service even includes the development of informative solutions to support processes.

We used a spring theme to depict Marchesi's creative process – the season in which the fair was held. This gave rise to the garden of ideas: Marchesi as a place where customers' ideas are heard and transformed into sophisticated items with style and elegance whilst adhering to the company's brand identity.

A flower became the graphical attribute for the concept. Using an exclamation mark as a starting point, the graphical concept presented the idea that, when nurtured and cultivated, the mark evolves until it is transformed into a magnificent flower.

Five petals were used to represent the five stages of our creative process:
Listening to the customer's idea
Developing a tailored publishing project
Planning the finished product down to the smallest detail
Printing on luxury materials using cutting-edge processes
Offering post-printing services, from logistics to invoicing
To illustrate the wide range of technical processes that we are able to offer, we then enhanced our own communication materials with the same finishings that we use for our customers' projects. These include laser cutting, gold hot stamping and internal printing.
Over the course of the three-day fair we enjoyed several opportunities to learn more about the latest innovations and technologies that the printing sector has to offer, meeting suppliers of services from the length and breadth of Italy.
As well as a multitude of packaging concepts, which we drew inspiration from, we were delighted to discover wonderful types of paper and new techniques from companies we have already been collaborating with for some time. We hope to integrate these new discoveries into our production processes to provide customers with a service that is always at the forefront of today's market. We were also able to learn more about leather-like materials, which are expressive, authentic types of paper that can accurately simulate a leather effect. The fair also provided an opportunity to find new types of coloured paper in keeping with the latest trends in the fashion and cosmetics sectors.
Indeed, we got our first look at the new version of Stardream – a type of paper that we already use for some of our most valued customers in the luxury goods sector. The paper is now available in a richer, more luxurious version with colour-changing effects that vary according to the light that the paper is exposed to.
In terms of finishings, we learnt more about the possibilities of hot stamping on very thin types of paper, such as tissue paper, and the best techniques for achieving this. Together with one of our customers, we also reached out to a supplier able to quickly produce printing plates for hot stamping and raised-effect stamping. We found a technology that was able to offer us both types of finishing using a single printing plate, ensuring high-quality results in just one step. Eliminating the second step not only minimises the time spent but also makes the process more cost-effective. It is also possible to achieve different types of raised finish: multifaceted, rounded, pointed and so on.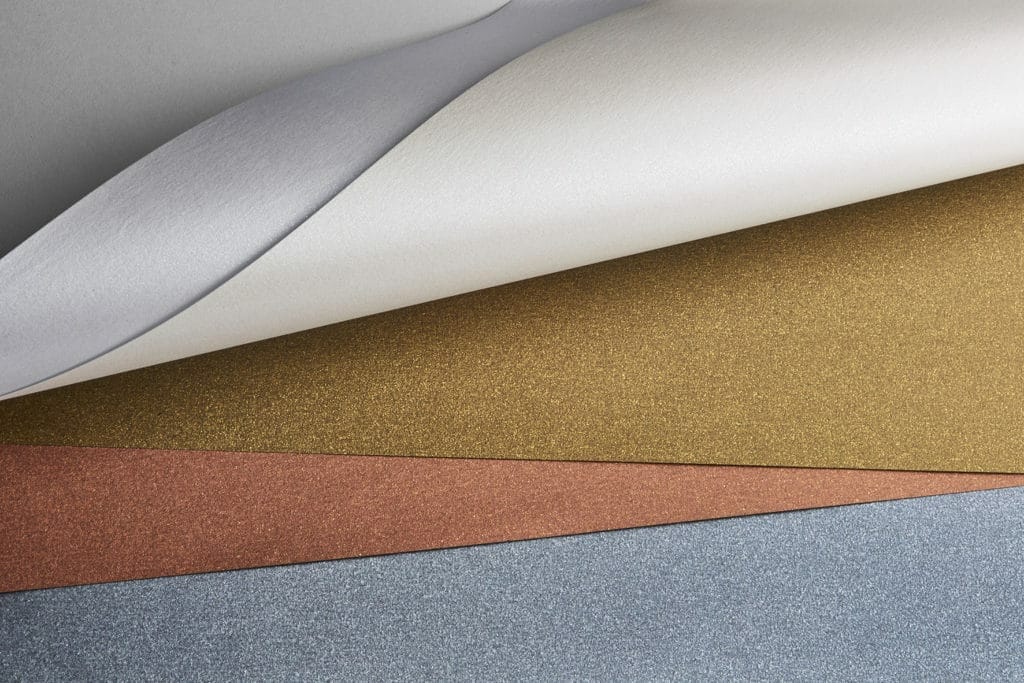 All in all, the Packaging Première fair provided us with an excellent opportunity to meet suppliers, luxury sector companies, customers and prospects.
Without a doubt, the fair provides a unique window on a focused, targeted world where supply and demand are of equal interest; supply in terms of acquiring new techniques, paper types and products and demand in terms of forging business and interpersonal relationships.
In particular, we noted the importance of brand representation at this type of event as a way of strengthening existing relationships and gaining new contacts.
FOLLOW THE EVOLUTION OF PRINTING WITH MARCHESI
We would like to send you technical information about the world of printing, new technologies, special processes and our latest creations.