14 Aug

A century of printing tradition and passion

Posted at 09:54h

in

Brand
When the graphics industry is more than just a job
In 1918 Ivo Marchesi began working at the Craia printing works in Rome, giving rise to a passion for printing that was to become part of the Marchesi family's DNA. In 1953, the engineer Luciano Marchesi founded Arti Grafiche Marchesi srl and expanded the business by acquiring valued customers, particularly in the publishing sector.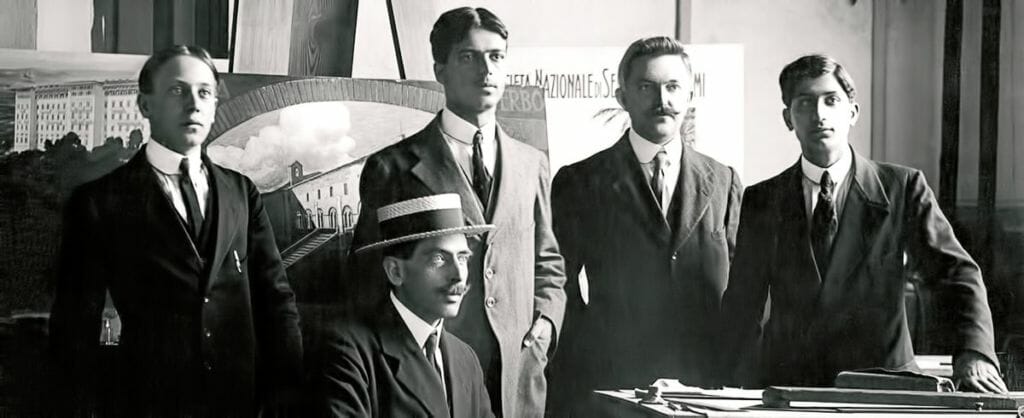 Ivo Marchesi, second man standing from the left. The lithography department of Arti Grafiche Marchesi, March 1918
Prestigious collaborations established over the years with cultural institutions, international fashion brands, luxury goods companies, financial institutions and top quality Made in Italy enterprises have shaped our company's identity in the editorial graphics market. This identity is reflected in the production of unique, luxury products obtained from our hand-picked materials, finishings and technologies.
Sensational, luxury printed products
We believe that paper can elicit an emotional response.
For this reason, we listen to our customers and put our passion and experience into designing products that convey values and stories and drive aspirations.
We interpret the culture and values of businesses to create items that reflect our customers' brand identities in a coherent, integrated way. With decades of experience in sectors where beauty and style are strategic factors, elegance, modernity and aesthetic taste are elements that we have internalised at Marchesi.
We use this philosophy to create books, encyclopaedias, catalogues, brochures, gift boxes and packaging – each and every one the result of dedicated projects undertaken with maximum care and attention to detail.
We go beyond traditional printing and have always strived to combine innovation with craftsmanship to ensure products that are outstanding and innovative in both their workmanship and practicality. Our continuous commitment to research and development has recently led us to invest in cutting-edge technologies that allow us to print even on uncoated paper with exceptional brilliance and retaining all the colour features of the original image.
To help our customers enhance their brands, in addition to printing we provide assistance with copywriting, graphic design, technical design, material selection, packaging and worldwide product distribution.
Customer satisfaction forms the ground on which we base our services and internal organisation.
Printing Intelligence services for high-quality printing
With our constant research and development work as a springboard, we have been interpreting the evolution of the graphics industry for the past decade by developing digital solutions to optimise the entire printing production chain. We undertake various projects in this field:
CRM programs and platforms that work with the customer's CRM system to receive the data needed to manage personalised production and one-to-one delivery of materials for offline contact.
Tailored e-procurement portals able to manage orders of printed material from sites around the world in a simplified manner, monitoring their progress, from page layout of the material ordered through to delivery.
Tailored portals to assist with marketing processes that allow full control of brand identity aspects at the local level and simplify the processes involved in page layout, translation and exchange of information between corporate offices, local sites and suppliers
The challenges set by digital technology have provided us with an opportunity to steer 'traditional printing' towards more 'avant-garde printing' in which customer service is centralised and integrated. In addition to creating unique products able to leave lasting impressions and arouse sensations, desire and curiosity, this service includes providing support for managing businesses' relationships with suppliers, employees and customers through web-based platforms that simplify the management of processes linked with printing.
FOLLOW THE EVOLUTION OF PRINTING WITH MARCHESI
We would like to send you technical information about the world of printing, new technologies, special processes and our latest creations.